Beryl Gift Guide
2019
Our round up of the brands that are designing beautiful products to make life on the bike that little bit better. We hope you'll find the perfect gift for the cyclist in your life, for life both on and off the bike.
↓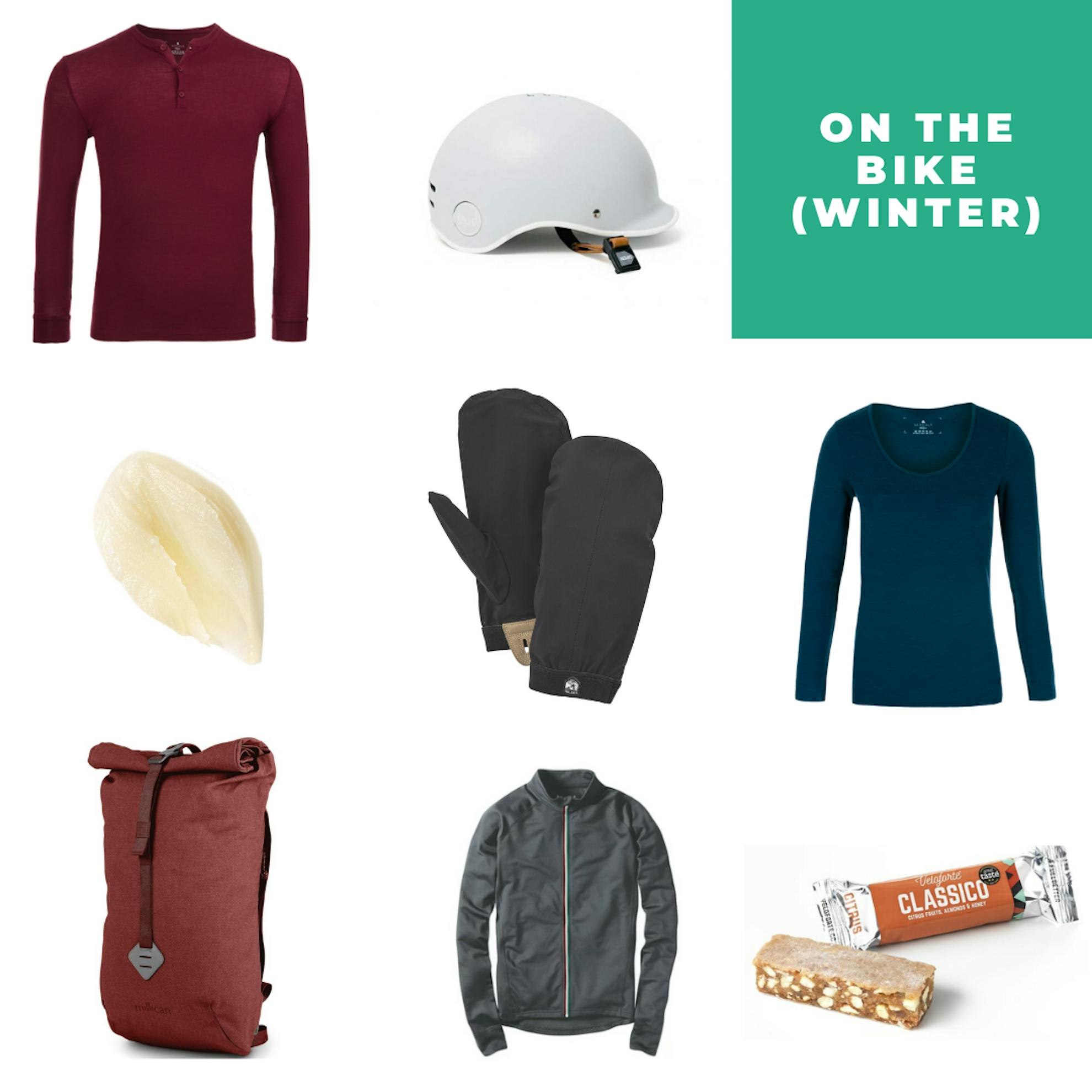 Gifts for the winter rider
A family-owned company, this is Sweden's best-known glove maker. They have ranges for every sport, as well as designing gloves that don't look out of place with city clothes.
Seagale specialises in simple, elegant French style, made from materials you can move in. Ideal for layering up on the bike when you're riding around the city.
Those winter rides can lead to chapped lips, fingers, elbows and knees.  London-based MontaMonta brings you a collaboration with the London Honey Co. (hives all over the city, from Bermondsey to the Tate Modern) to create a beeswax-based balm for all manner of ailments. No parabens, silicones, or palm oil.
If you, or someone you know, is looking for a helmet that won't look out of place with city clothes, Thousand helmets may do the trick. A relatively new brand to the UK, Thousand are a US company making beautifully designed helmets, with smart lockable features meaning you don't have to cart a clunky helmet around.
We were tipped off about Welsh brand Howies this year, and were excited to see that their clothing range had expanded to pieces you can wear on the bike. This grey merino jersey has a lovely rainbow zip feature, brightening up even the darkest of mornings. They have both men's and women's ranges for on and off the bike.
If you've ever bought sports clothes that feel so good when they're on, they become your primary motivation for training, then you'll like the Veloforte bar. Put one of these in your pannier, and you'll be itching to get moving - unlike most "energy-on-the-go" food, these are genuinely delicious.
We love the aesthetic of these bags, and the story behind British-based Millican. They're spot on for someone who has a city commute and needs a bag upgrade for the winter.
This is the sportswear brand founded by the Parkrun team. Their clothing is made in Europe, but comes at reasonable prices.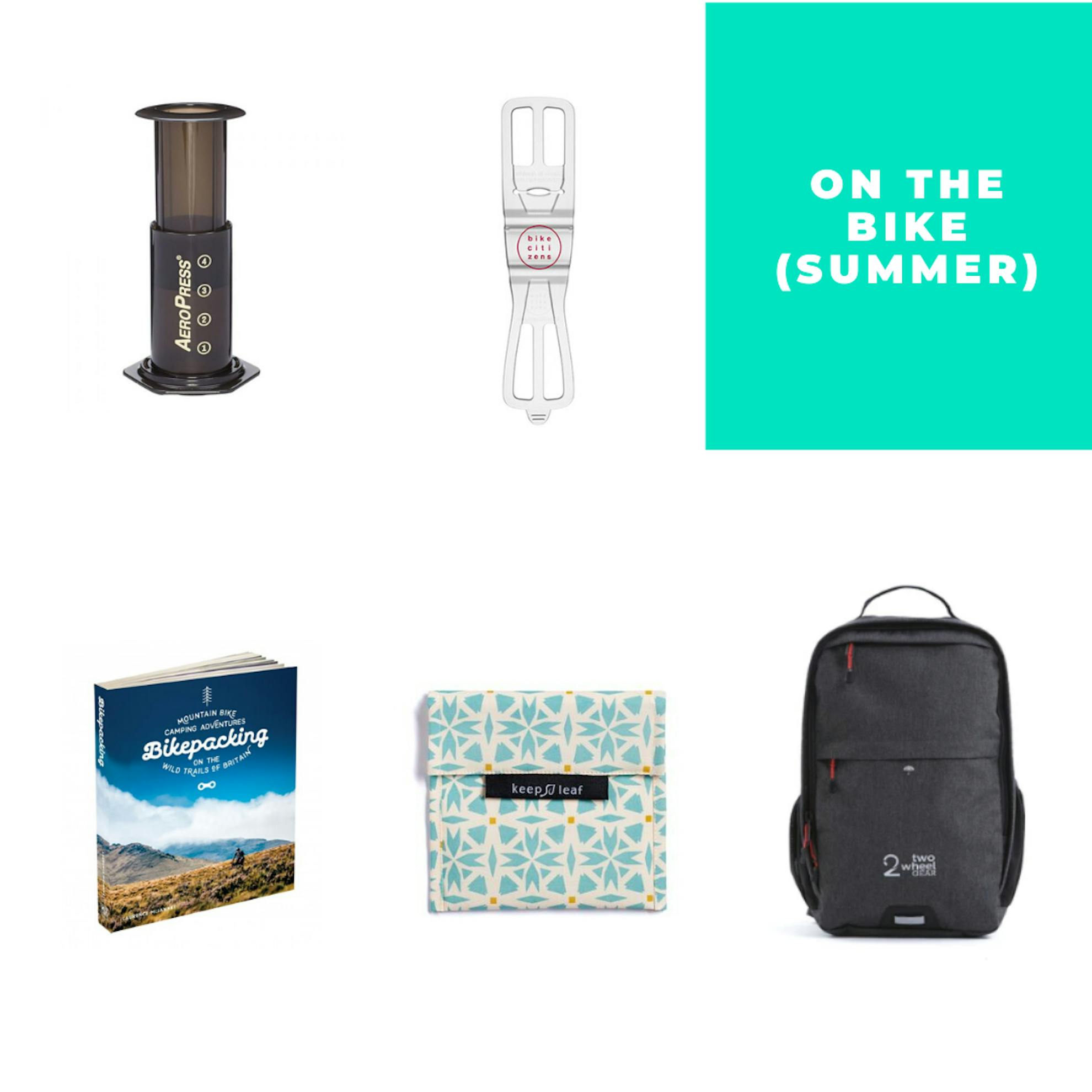 Gifts for the summer rider
Bike-packing on the wild trails of Britian
This book will stoke your inspiration and determination to make the most of the summer months in the UK. Trying to convince someone that a bike-packing trip would be their dream holiday? Pop this in their stocking.
If you're still struggling to convince people that bike-packing is for them, getting an Aeropress may help! It lets you make espresso when you're on the road and is really light and compact - good for trips with long gravel roads and no cafes in sight.
If you're out for the day and are packing your lunch, opt for plastic-free alternatives like this Keep Leaf sandwich bag. It's the perfect stocking filler for cyclists and non-cyclists alike, brightening up everyone's lunchtime and reducing unnecessary waste.
Universal phone holder by Bike Citizens
For those summer months when you cycle to unknown places and just explore, the Bike Citizens phone holder will ensure you stay on the right path. No need for extra gadgets or fixtures on your handlebars; just attach and go. Fits in your pocket when it's not in use.
A US-based company who have recently expanded to Europe - their backpack-to-pannier solutions are great for the summer heat. Pop it on the pannier rack for your ride into work, throw it on your back when you head out to the gym at lunch.
If you know someone who can't stop dreaming about cycling in the summer, gift them a jersey from Velo Elan. Made from recycled materials, Velo Elan is a young brand offering more sustainable and ethical options in premium cyclewear. Their inaugural range embraces a summery colour palette, which will look great against the summer fields and skies next year.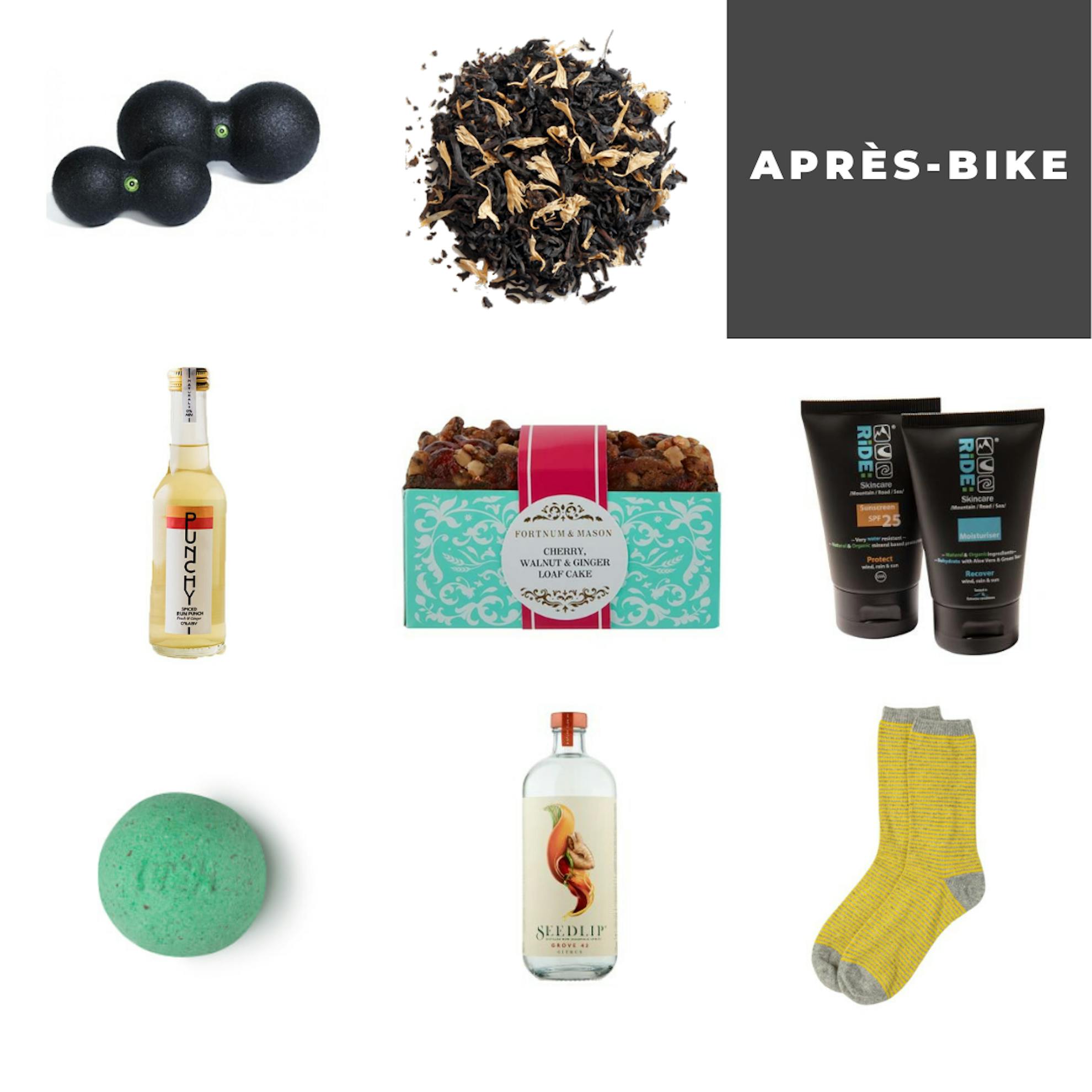 Gifts for after a ride
A good gift for any foam roller converts, or people looking to relieve sore muscles after a hard ride. The BlackRoll Duo Ball is small enough to stash in a backpack, so you can take it on your travels, or even with you on the bike.
Fancy something a little more exciting than black tea and milk when you get off the bike? Bird & Blend is a UK tea company with a very creative flair. Expect to find flavours such as Bears Like Marmalade, Earl Grey Crème, or Coconut Milk Oolong.
Maybe you have a long cycle home after a Christmas party, or you're off alcohol while you train - Punchy 0% alcohol drinks will ensure you don't feel like you're missing out. Try their peach and ginger spiced rum for a nice alternative to a Christmas cocktail.
Fortnum and Mason Cherry, Walnut & Ginger cake
For many cyclists (certainly for us at Beryl HQ) a long ride is synonymous with a slice of cake. Pressed for time to get one in the oven? If you want to treat yourself, nothing feels quite as decadent as the Fortnum and Mason loaf cakes, packed full of dried fruit and nuts.
Winter can throw every element at you; even on the coldest days, you might be riding in bright sunlight. Add in the "sea breeze" that we get in many parts of the UK, and your skin will no doubt need a pick up. Ride Recover makes skincare to help speed up recovery after you've faced the elements, and keep you looking brand new.
If you know someone who loves a long bath post-ride, it's worth braving the powerful scent of your local Lush shop to pick up a bath bomb. There are so many to choose from, you'll find one for every ailment, and a scent to match.
It's on the expensive side for a non-alcoholic spirit, we know... but if you know someone who is off alcohol for any reason, or think they just need a break during the Christmas season, this is a fantastic option. Our favourites are Spice and Grove.
Johnston of Elgin Cashmere Socks
There's nothing quite like slipping your feet into a pair of cashmere socks. They're the ultimate luxury, and arguably, the perfect gift for that person who seems to have everything. Know someone who loves those long winter rides, no matter the weather? These will get their feet toasty warm within no time once they're off the bike.
Wishing you a very happy festive season!
- from the team at Beryl