A perfect picnic by bike
Recipes and suggestions from our community for a summer bike ride
London is basking in long days and sunny weather. So it's a great time of year to get out on our bikes with a few friends to explore. Cycling is hungry and thirsty work, so we asked our community for their favourite picnic hamper fillers and took our favourites for a test.
↓
Something savoury
Perfect picnic snack
The hands-down winner in the office was Andy's suggestion of homemade Scotch eggs. We love a Scotch Egg, and we couldn't agree more with his advice for a picnic:
"Pack fruit. Pack carbs. Pack a picnic blanket. Pack a good friend to share it."
To make your own scotch eggs:
Soft boil your eggs, and cool straight away in a bowl of ice water
Peel the eggs carefully and set aside
Season good quality sausage meat with salt, pepper, herbs and mustard to taste
Wrap each boiled egg in sausage meat, then roll in flour
Dip each one in beaten egg, then roll in breadcrumbs to coat
Deep fry.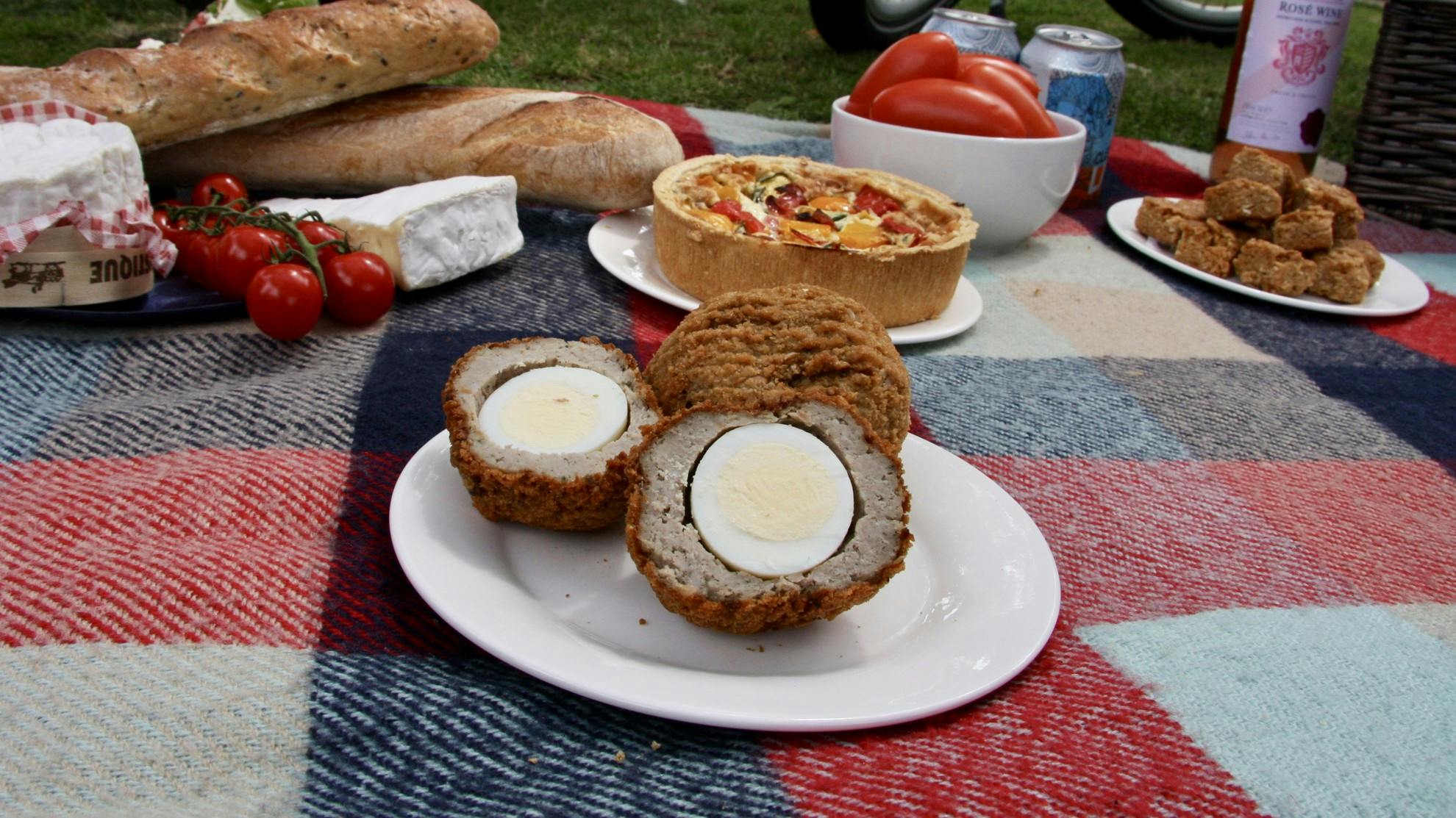 Spanish omelette
A close runner up to the Scotch Egg was the Spanish omelette suggested by Pedro - another combination of eggs and carbs that is hard to beat. Delicious with or without onions, a Spanish omelette is easy to make in advance and is good for sharing.
Peel and thinly slice 4 potatoes and an onion.
Fry the potatoes and onion gently until soft in olive oil.
In a bowl, beat 4 eggs. Season well.
Use a slotted spoon to add the potato and onion mixture to the eggs. 
Mix the potatoes and eggs together gently. 
Add some more oil to the pan if needed, and return all the ingredients to the pan. Let the omelette cook through halfway, then use a plate to turn it upside down and return to the pan to cook the other side. 
Cheese
Sometimes, it's just too hot to cook, or plans are more spontaneous. On those days, most of our team agrees that all you need is to find some good, fresh bread, a selection of cheese and a bottle of something nice.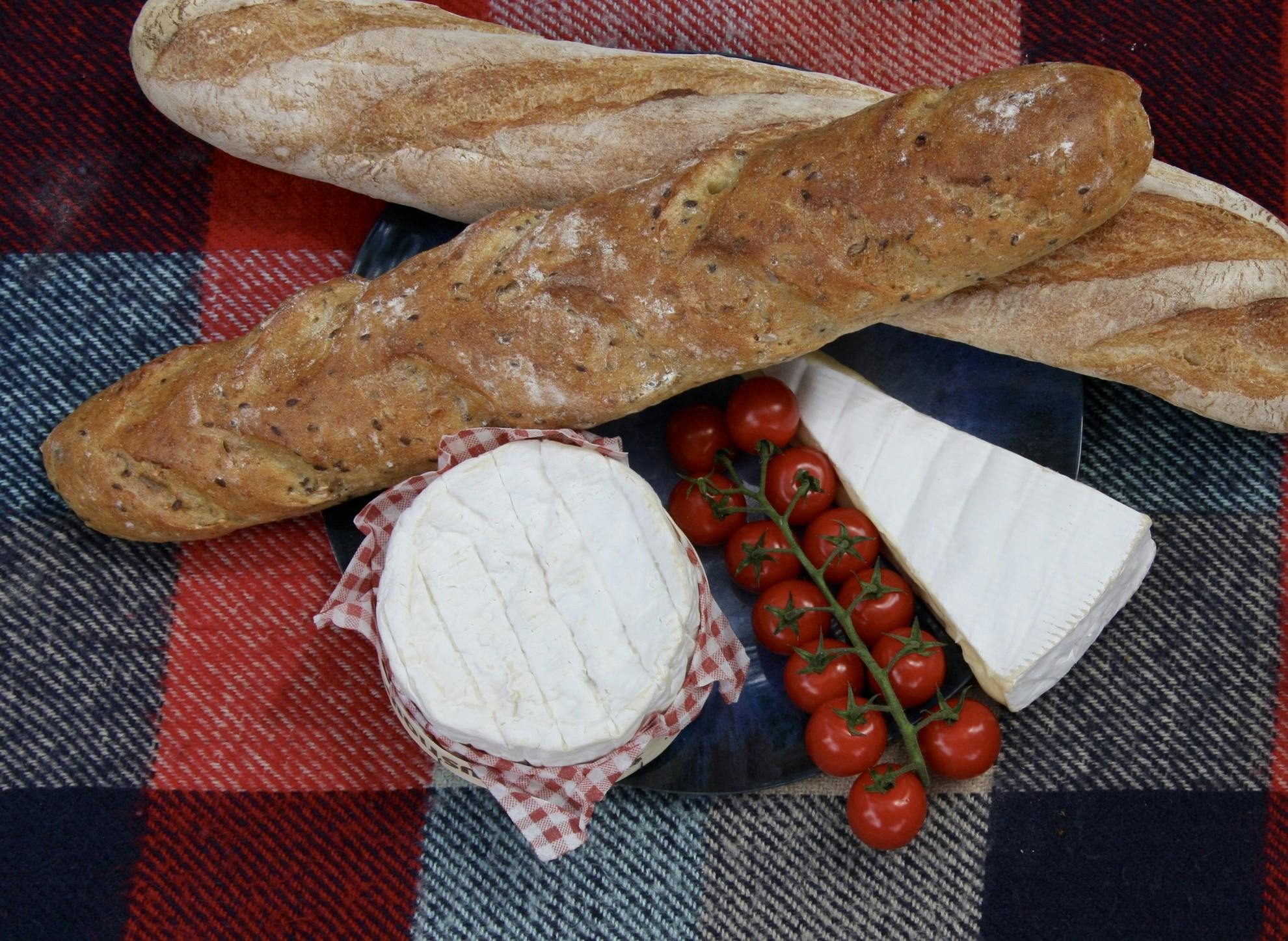 Something fresh
Cycling can be thirsty work, so it's nice to have something fresh and juicy in your picnic hamper on a warm day. 
Watermelon, mint and feta salad
This fresh, tangy salad suggested by Martijn is best enjoyed freshly prepared when the watermelon is chilled. If you're going on a longer ride, use ice packs to keep the melon cool, and add feta and the dressing just before you're going to eat.
1. Chop chilled watermelon into 1 inch cubes. Place chunks in a colander to drain as you chop.
2. Whisk together the 100ml extra virgin olive oil, juice of 3 limes, a pinch of salt and black pepper for the dressing.
3. Place watermelon in a large salad bowl. Pour dressing and plenty of freshly chopped mint over the watermelon and toss gently to coat. 
4. Pour the crumbled feta into the salad bowl and stir gently to integrate the cheese into the salad. Serve.
Something sweet
Dessert is very important, and a picnic hamper wouldn't be complete without something sweet and tempting. However, it's no place for elaborately iced cakes or delicate pastries. A picnic is where traybakes and loaf cakes come into their own - easily cut up into different size pieces to fit into whichever tupperware you have handy. 
Oaty energy
Jim shared his excellent flapjack recipe with us. Sweet, zesty and just a little bit sticky, these bars are a good for after lunch or as a midway snack on the way back when energy starts to dip.
Melt 125g butter and add 125g golden syrup and 125g Muscovado sugar
Heat gently, and when the sugar has dissolved, remove from the heat and stir in 350g oats, a handful of chopped dates, zest of half a lemon and a pinch of ground ginger.
Press into a greased tray and bake at 150C for 40-45 minutes. Let cool for 15 minutes then slice into portions.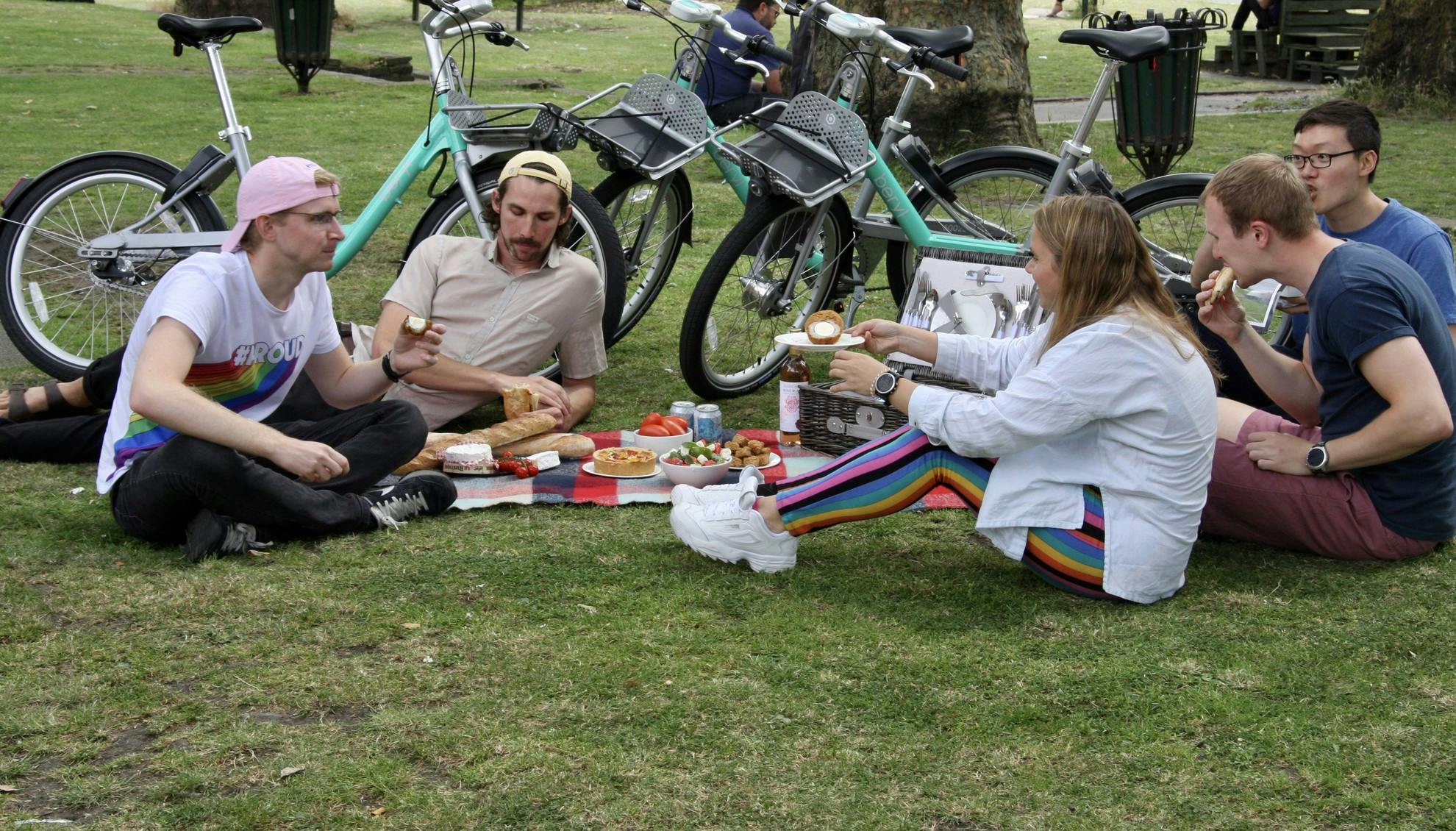 Thanks to all our community members who submitted ideas for food, drink and other things to take on a picnic. We had fun reading your suggestions, and even more fun setting up a picnic in the park!