Ride safe this winter with Beryl e-scooters
With the weather getting colder and the days being shorter, we want you to make the most out of your journey. 
Our e-scooters are available to hire all year round and are an easy and cost-friendly way to travel, even in the colder months. As the nights get longer and conditions change, there are a number of things you can do to make sure you stay seasonally safe.
Keep riding safely and confidently with our top tips for winter riding on e-scooters.
Preparation
Prepare for your journey by checking the weather forecast before you head out.

Bring a suitable helmet for your journey, if you add a hat underneath make sure the helmet still fits well.

Waterproof gloves, jackets and trousers will keep you dry in the rainy weather and

adding layers to your clothing is also an effective way to stay warm.

Wear reflective or visible clothing to help you to be seen by other road users.

Plan your route ahead of time, it's best to choose roads that you know well, are well-lit, and have smooth surfaces.
Riding tips
Ride with caution when you approach areas with big puddles and if you're on an e-scooter, turn around and find another route.

If you encounter icy or wet areas you should get off and walk until the ground is dry and clear.

Ride with extra care in foggy conditions and make sure you have a good view of your surroundings. 

In windy conditions decrease your speed so you can easily control your scooter.

Allow yourself time to brake gently and steadily, remember it's going to take other people longer to slow down too.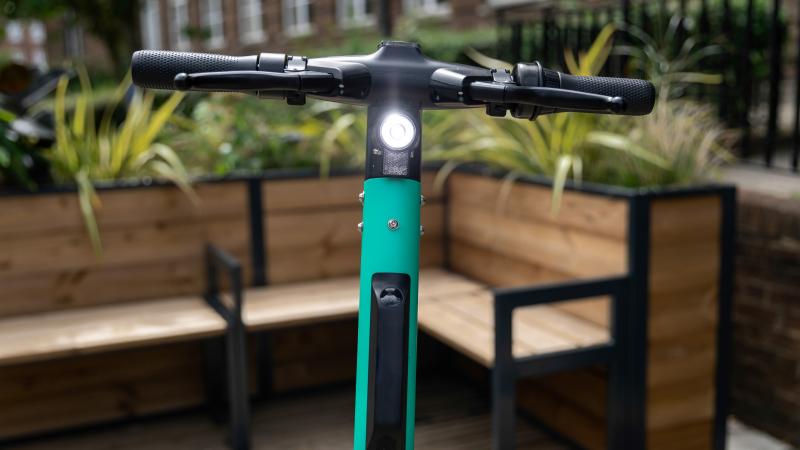 Our e-scooters have a range of safety and comfort features to make riding a pleasure, no matter the time of year. All of our e-scooters are equipped with front and rear-facing lights to help you see and be seen at all times. Our lights switch on automatically, allowing you to remain confident when cycling after dusk. If you're unsure if someone can see you, or if you need to alert someone that you're approaching, ring our built-in bell to make yourself known.
If you want to learn more about riding our e-scooters, check out our Scoot Happy online safety course. The course will cover how to prep your scooter and get around safely on the roads. When you complete the course you can also earn up to 30 free minutes to use on your Beryl account.
We hope these tips will help you when you're riding our e-scooters this winter.
Go for a winter ride by downloading the Beryl app today.