Beryl Launches in Studland with 4 New Bays
We are excited to announce the arrival of four new bays in Studland, with 10 shiny new Beryl bikes and access via the Sandbanks ferry.
Riders will be able to board the ferry, taking their Beryl bikes from the Bournemouth, Christchurch and Poole (BCP) area, to explore Studland (and vice versa). Remember to pause your ride while on the ferry, to ensure your bike isn't claimed by someone else.
Studland is a stunning slice of our British coastline, tucked on the Isle of Purbeck. Featuring beautiful sandy beaches and home to both of our protected seahorse species and the UK's six native reptiles, the site was tantalisingly close, but inaccessible to Beryl riders...but that has all changed!
Beryl riders can now take advantage of the much-loved chain link ferry and enjoy the UK's first 'super' nature reserve by bike. And in accordance with the National Trust's wishes to share one of the most biodiverse and protected areas of the UK with you all, we felt it was only right to offer a convenient and pollution-free means of transportation.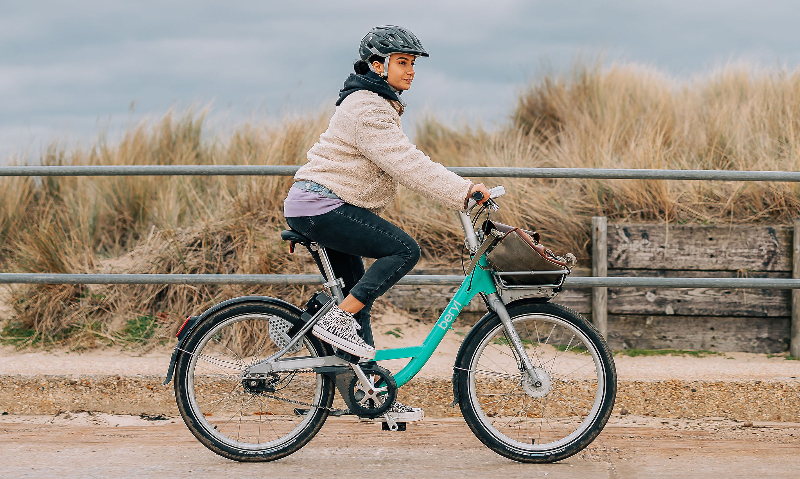 As you roll off the ferry you'll be met with Shell Bay, an expanse of golden sand and bathing waters classed as 'Excellent' by the Environment Agency. If you've had a paddle and decide to venture further (we really hope you do!), you'll pedal along with views of Bramble Bush Bay on your right, and Studland to your left. Both of which are part of the Purbeck Heaths National Nature Reserve, a Site of Special Scientific Interest. 
It's just a 20 minute ride from the ferry to Knoll Beach, with the option of hiring a kayak or stand-up paddleboard from Studland Watersports. Or fuel up on 'kitchen garden and sea foraged food' at The Pig. Take a look at the National Trust's website, for Things to do at Studland Bay, there's so much on offer!
If you're worried about hills, don't panic! The ground is relatively flat and gently rises as you approach Studland. Goggle at the view, but be sure to keep your eyes open for large birds of prey, such as hen harriers and ospreys; deer along the roadside and the mass of purple heather in the late summer. 
After the fun, return your Beryl bike to one of our new bays in Studland or, if you're heading back on the ferry, check the app to see your nearest drop off site. Rides start from just 5p a minute, with a day pass option for £12. 
Be sure to tag us on Instagram, Facebook and Twitter! We'd love to see what you discover.