A ride that matters - join Kate's Climate Cycle in Norwich!
Beryl, powered by National Grid and Norfolk County Council, are excited to be supporting Climate Cycle,  Kate Strong's 3,000 mile climate cycle, on a bamboo bike, around Britain.
On 6th June, Kate Strong - world champion triathlete and climate activist - will be arriving in Norwich on the first leg of her cycle for the planet. 
On her 3-month adventure, Kate will be visiting sustainable projects around the country aiming to inspire the nation into action around climate change. She will be talking with people, communities, organisations, charities and councils about what they're doing to mitigate climate change.
We're delighted that Kate is stopping at Norwich and is partnering with Berl, powered by National Grid and Norfolk County Council! Together we'll be running activities, workshops and talks to support our shared mission of inspiring climate action.
How can I get involved?
Day 2 of Kate's tour:
Ride with Kate! - FREE bikes
We want you to join Beryl and take part in Climate Cycle by riding with Kate into Norwich.We'll ride with Kate from Wymondham to Norwich and take part by cycling for the climate and supporting Kate on her tour!
Meet 6th June, 3pm at the Wymondham Library Beryl bay. 
We estimate this ride will take 1.5hours and is a 10 mile, mostly flat or downhill ride on cycle paths and a bit of road.
Beryl powered by National Grid will provide all riders with FREE access to bikes for the trip.
Welcome party and upcycling workshop - FREE
5pm - 8pm at New-U.
On her arrival to Norwich hear Kate telling us more about Climate Cycle and take part in a free clothing upcycling workshop by New U. Bring your own design to life with expert creative volunteers showing you upcycling techniques! 
Day 3 of Kate's tour:
Join Kate for day 3 of her tour!
7th June: Kate will be spending the day learning what Norwich is doing to tackle the climate crisis and hearing from those working to make Norwich more sustainable. 
Join her at 10:30am for a group ride from County Hall along Marriots Way to Gressenhall Museum. Members of the Active Travel Team and Beryl powered by National Grid will also be joining the ride! 
Hear from the Environment Hub as they give a presentation and workshop in the afternoon.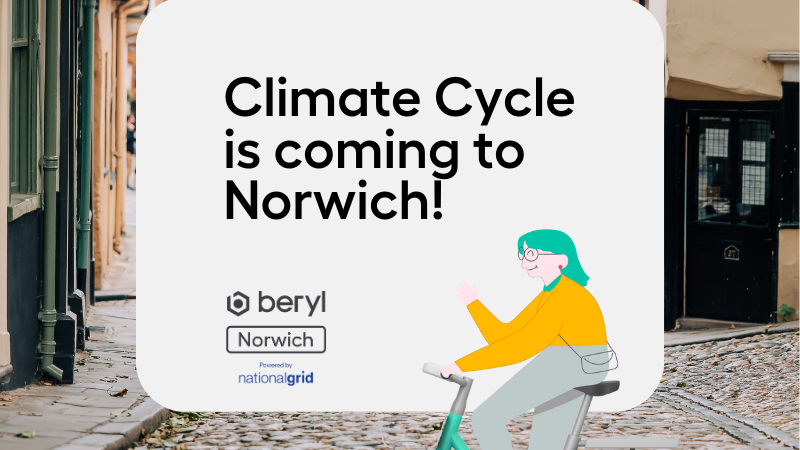 Beryl's climate commitment
By offering a bike and scooter share scheme, we make it easier for you to travel around your city without using a car. Travelling by bike or scooter is the greener choice, contributing to less pollution and congestion and making cities a healthier place to live. Try travelling by Beryl, join our ride along with Kate and celebrate making Norwich a greener city!