Beryl e-scooters join the family
Since the very beginning of our company, we've focused everything we do on getting more people in cities on bikes. Today, we're really excited to be bringing the Beryl e-Scooter to the streets, and opening up another micromobility option to even more people.
A new option in Beryl Bays
Our network of Beryl Bays across our operating areas make it easy for riders to find bikes and e-bikes, while keeping pavements clear of clutter. Now, there'll be another option available in the bays - the Beryl e-Scooter, which uses the same geo-fencing technology as our bikes and e-bikes.
Going for a longer trip with lots to carry? An e-bike might be the choice for you. Need to get somewhere quickly without breaking a sweat? Choose an e-scooter. Fancy an active journey around town? The classic Beryl pedal bike is there for you.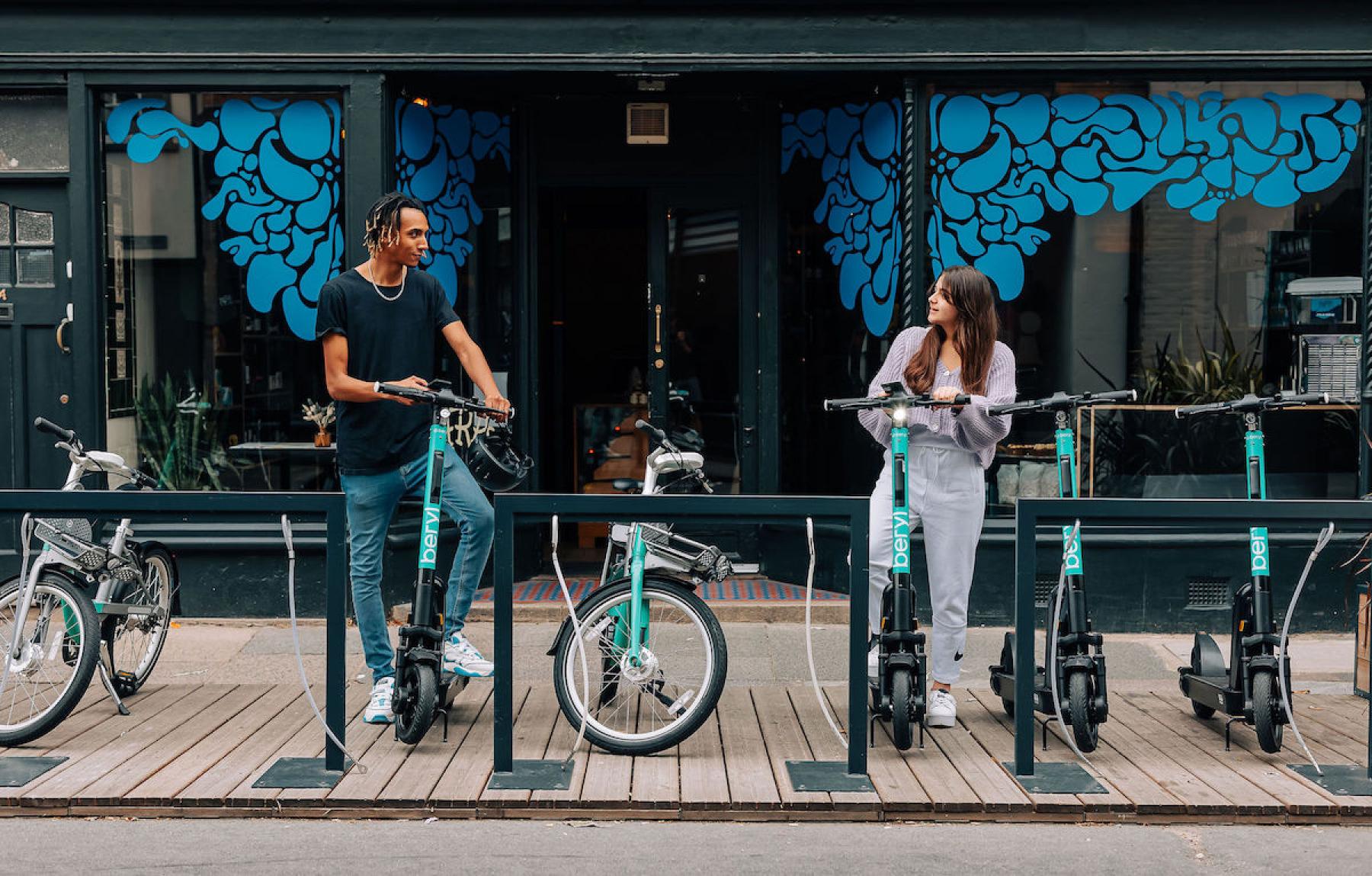 New ways to get around
With the COVID-19 pandemic restricting capacity on public transport such as buses, national and local governments have been working hard to find new ways to help people get around cities without getting in a car.
Beryl e-Scooters are being launched as part of a trial run by the Department for Transport, to understand how they can safely and efficiently add to existing transport networks. We're excited to learn how our riders use scooters to get around, and to develop the scheme in partnership with local authorities to make sure there are bays located where they're most needed.
We'll also be working closely with partners in the local community to educate users on how to safely and responsibly use scooters. Our operations team will be on hand to make sure scooters have batteries charged and ready to go, and to respond to reports from the community when scooters need to be moved or rebalanced to another location.
Designed for a nice ride
Since the beginning of Beryl (when we were still a small bike lights company called Blaze!) we've cared about good technology and good design. Our Beryl Bike has won many fans for being a quick and nimble ride, suitable for all type of riders. We wanted our e-scooter to be the same - a comfortable option to encourage everyone to choose micro-mobility over a car journey.
Our e-scooter has 12" front wheels and front suspension forks for a comfortable and stable ride. An extra wide standing board makes it easy to ride and the "always on" lights keep you visible whatever the time of day or the weather.
A truly multi-modal city
Today, we launch Beryl e-Scooters in Norwich. They'll join Beryl Bikes and Beryl e-Bikes that have already been warmly adopted by residents, students and visitors alike to get around. All three will be available to hire from the same app and account, making it easy and convenient to choose the best option for your trip.
We're looking forward to seeing the Beryl e-Scooter land in more cities throughout the UK and beyond - stay tuned for our next launch!