Why E-cargo Bike Share Schemes are Awesome
We're living in busy times and more than ever, people are in need of easy and fast ways to run errands, deliver goods and get around. As our cities and towns have been changing to keep up with emission free pledges, so has our transport.
Let's have a look at how e-cargo bikes are helping us move with the times…
The rise of the e-cargo bike
As our cities and towns evolve, the popularity of e-cargo bikes continues to rise, including share schemes that give multiple access to riders. A recent study found that e-cargo bikes deliver 60% faster than vans in urban centres and cut emissions by 90% compared with diesel vans. 
If you're new to the e-cargo bike revolution and want to get up to speed, here is a quick breakdown of what they are, how easy hiring one can be and what benefits they bring…
First of all, what are e-cargo bikes?
E-cargo bikes have an electric motor built in to assist with pedalling and have been designed specifically for carrying cargo. This can be brilliant for helping the rider carry heavy loads without affecting speed and zip up hillier ground more easily.
Designed with a longer base than regular bikes, e-cargo bikes can stably support a container at the front of the bike for storing and transporting heavy and bulky goods.
What are the benefits of riding e-cargo bikes?
Thanks to the design of e-cargo bikes, you can have the freedom to move items you wouldn't be able to transport on a typical bike and without the use of a car or van.  
This means being able to move from A- B on your own schedule and not having to wait for taxis or delivery slots. Another brilliant thing about e-cargo bikes is that they can help reduce traffic and air pollution, whilst allowing the rider to avoid high parking and petrol fees. 
Even better news, there isn't a hard and fast rule for what can go in an e-cargo bike. From big food shops, DIY tools, gardening and pet supplies, it all goes!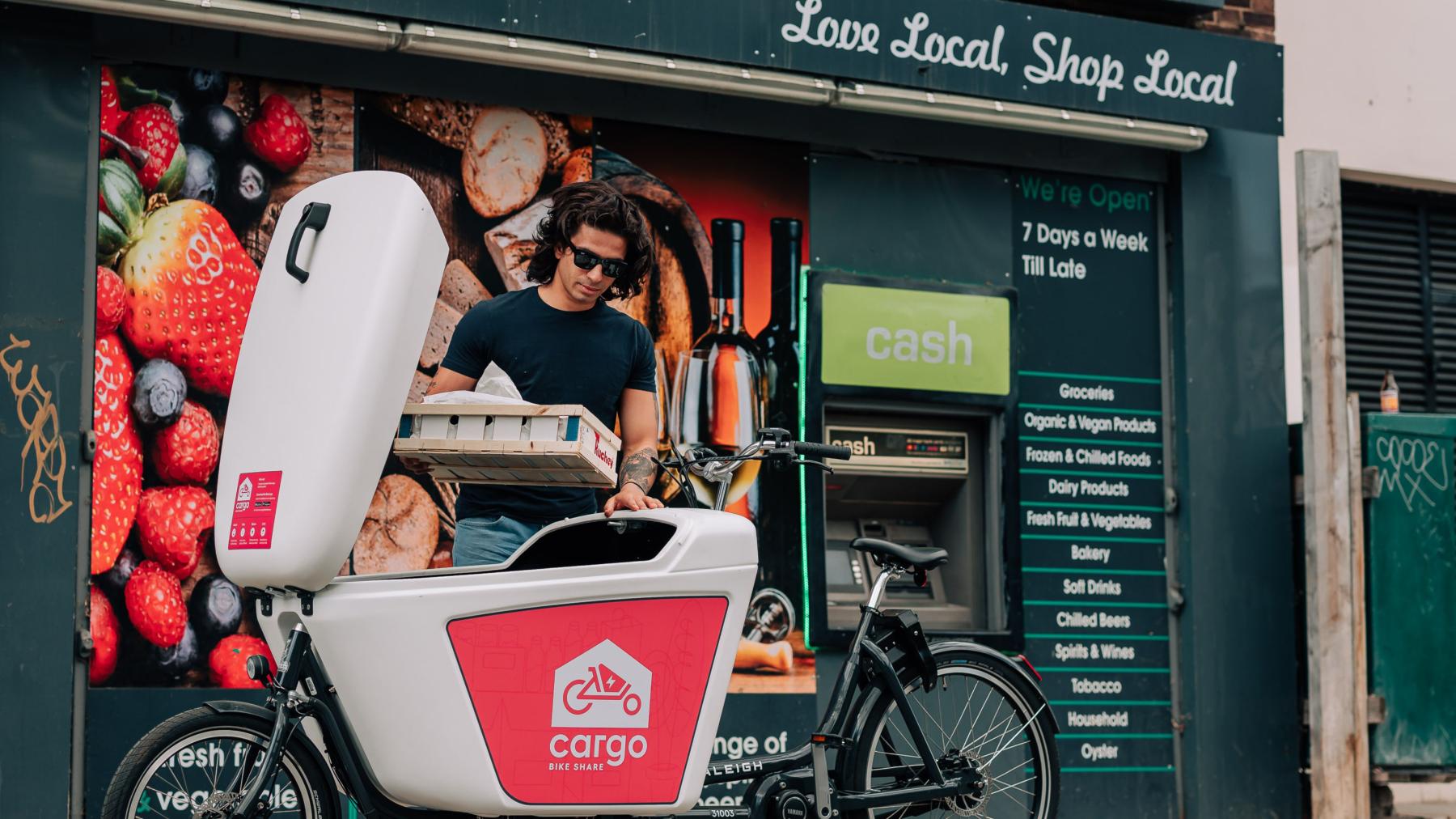 What are the benefits of a city wide hire scheme? 
Using e-bikes within wide hire schemes provide multiple perks including:
 
Affordable riding costs

Charged and ready to go bikes

Covered maintenance issues

No need for home storage

Emission-free travel


 
The costs of purchasing an e-cargo bike might not be viable for everyone, let alone charging and upkeep costs. 
Beryl has e-cargo bikes available to hire currently in Hackney, Westminster and soon in Hereford. These handy bikes can be located and unlocked via the Beryl app and riders can either Pay As you Go or purchase money saving Minute Bundles if they want frequent trips.
Our e-cargo bikes can help you make the most of sustainable transport at a small percentage of the price. Paying into a bike share also means you're helping these schemes exist, enabling more people to access the bikes and enjoy the benefits.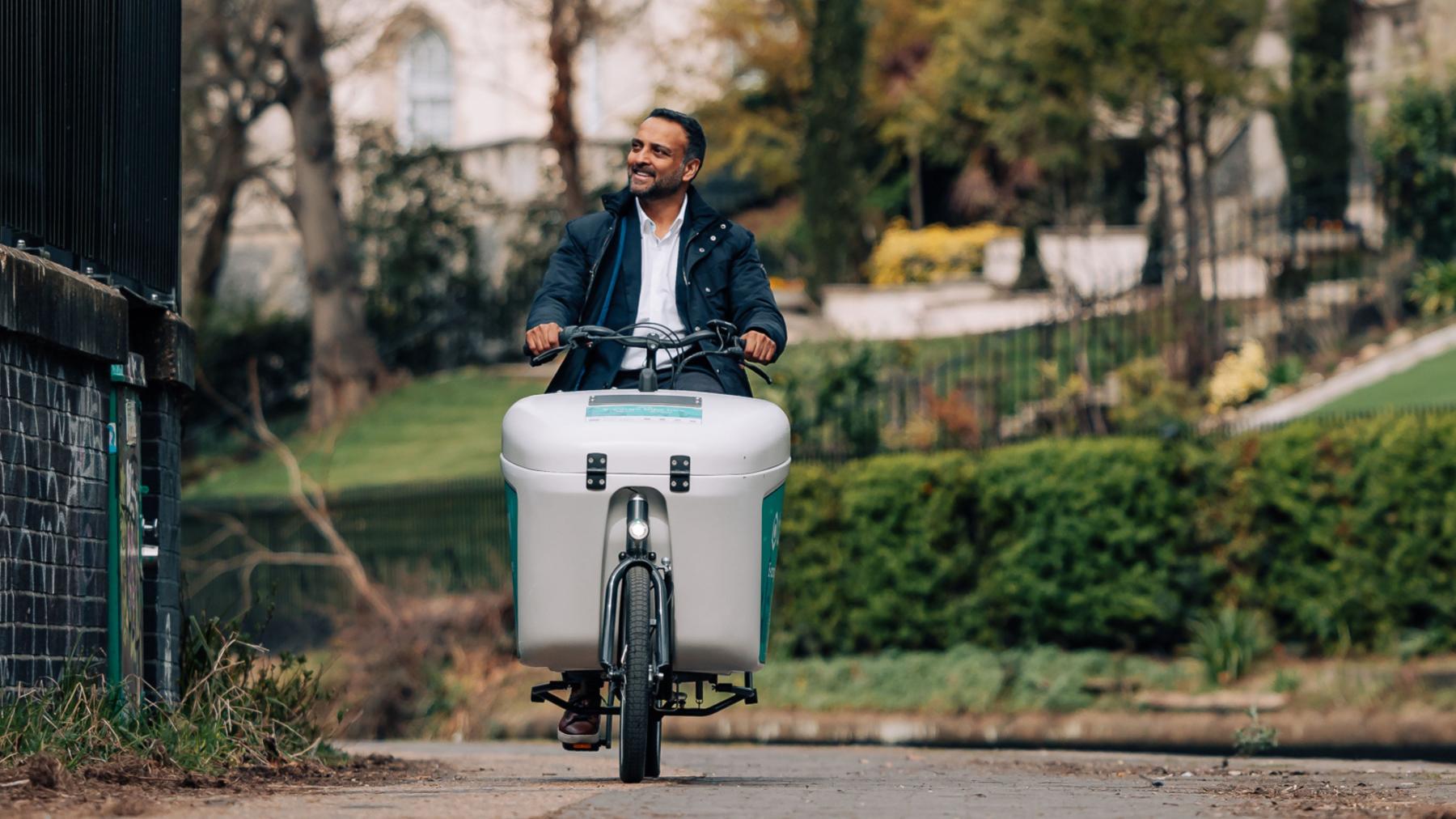 What can I use an e-cargo bike for?
In recent years we have seen e-cargo businesses pop up, from plumbers being able to carry their toolkits from job to job, mobile libraries, to florists delivering straight to door.

But the use of these bikes doesn't stop at small businesses and people who are self employed. E-cargo bikes are the perfect fit for the many different errands in our daily lives, from having a home clear out, to helping a friend move, to purchasing home and garden items.
With an e-cargo bike, you don't need to book a delivery slot and wait at home for a large food shop, you get the freedom to bring goods home on your own terms, in a fun and sustainable way. 
 
With an e-cargo bikes you can:
Buy in bulk and complete big food shops

Loan out items to friends and family

Buy and sell second hand goods 

Travel to the allotment and garden centre

Buy and transport sports equipment 
The list goes on and on! 
 
Ready to join the e-cargo bike revolution? 
Download the Beryl app to see our e-cargo bikes available in Hackney, Westminster and soon in Hereford.